Mini (1959-1969)
Brooklands Portfolio book about the Mini models from the years 1959-1969. Describes the Mini the Luxe, Austin 850, Estate, Wolseley Hornet, Riley Elf, Mini Cooper, Super the Luxe, Cooper S, Riley Elf Mk II, Viking Hornet Sport, Van, the Luxe Automatic, 1,000, Mk II and Mk III.
The articles, taken from contemporary British and American car magazines, provide much information about history, model changes and technology.
Also driving impressions, tests, comparison tests, technical specifications, etc.
| | |
| --- | --- |
| Szczegóły: | 172 strony, 27 x 20 x 1.1 cm, miękka oprawa |
| Ilustracje: | 400 fotografii |
| Wydawca: | Brooklands Books (GB, 1995) |
| Seria: | Gold Portfolio |
| EAN: | 9781855203006 |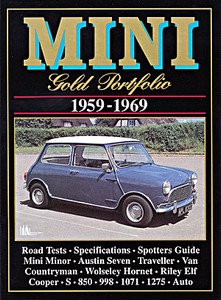 Mini (1959-1969)
Język: angielski
Kup na Amazon PL
Kup na Amazon DE
Kup na Amazon.com