The Complete Catalogue of the Mini - Over 350 variants from around the world 1959-2000
The Mini was not only Britain's best-selling car, with over five million produced, but it was also one of the longest-lasting, in production for 41 years from 1959 to 2000. And of course it is one of the best loved cars ever. Its popularity, then and now, can be attributed to the brilliance of its creator, Alec Issigonis, whose design resulted in a car which was incredibly space-efficient and was also a sheer joy to drive.
This book details every single Mini variant ever made. As well as the familiar Mini saloon, all the body styles are covered, including the estate and van, the pick-up, the booted Riley Elf and Wolseley Hornet, the sporting Mini-Cooper, the square-nosed Clubman, the open-topped Cabriolet and the utility Moke.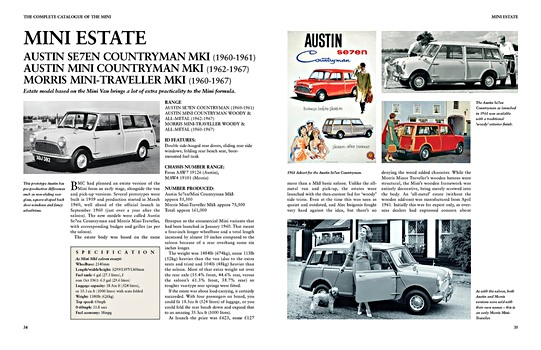 Yet that was not all, for the Mini was also a truly global success. It was made in special versions for export to markets such as Canada, Japan and the USA. It was constructed in almost every continent. Manufacturing operations around the world made their own special Minis, from unique South African Minis to plastic-bodied South American ones, and from special high-performance Australian variants to distinctly different Italian Innocenti Minis.
Then there were almost countless special editions, from 'designer' Minis like the Paul Smith to offbeat ones such as the Mr Bean. And it doesn't end there, for coachbuilders like Wood & Pickett, Radford and Broadspeed took to the Mini like no other car, producing luxurious, modified and high-performance Minis for customers who sought individuality.
When you add them all up there were over 340 official Mini variants and around 160 coachbuilt versions - an astonishing total of more than 500 different incarnations of the Mini. They are featured and described here, with over 750 illustrations.
| | |
| --- | --- |
| Autor: | Chris Rees |
| Szczegóły: | 192 strony, 27 x 21 cm, twarda oprawa |
| Ilustracje: | 750+ zdjęcia czarno-białe i kolorowe |
| Wydawca: | Herridge & Sons Ltd (GB, 2016) |
| EAN: | 9781906133726 |
The Complete Catalogue of the Mini - Over 350 variants from around the world 1959-2000
Język: angielski
Kup na Amazon PL
Kup na Amazon DE
Kup na Amazon.com