Louis Coatalen : Engineering Impresario of Humber, Sunbeam, Talbot, Darracq
The only published biography of Louis Coatalen, an important engineer and personality in the industry. The story behind great motor racing successes and some failures. New research into family and links across the automobile design world.
Includes many previously unpublished photographs.
| | |
| --- | --- |
| Autor: | Oliver Heal |
| Szczegóły: | 288 strony, 46.5 x 28 x 2.2 cm, twarda oprawa |
| Ilustracje: | bogato ilustrowane, zdjęcia czarno-białe i kolorowe |
| Wydawca: | Unicorn Press Ltd (GB, 2020) |
| EAN: | 9781912690695 |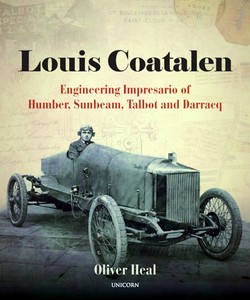 Louis Coatalen : Engineering Impresario of Humber, Sunbeam, Talbot, Darracq
Język: angielski
Kup na Amazon PL
Kup na Amazon DE
Kup na Amazon.com