The Legend of American Motors - The Full History of America's Most Innovative Automaker
NOWOŚĆ
This colorfully illustrated book details the economy, high performance, and luxury exploits of American Motors Corporation (AMC), the iconic US company that forged new and dramatic styling paths with Dick Teague, furthered innovative engineering, and brought the Jeep brand to an international audience.
Founded in 1954 by the merger of Nash-Kelvinator Corporation and the Hudson Motor Car Company, American Motors was the little company that made a big impact. Small and manoeuvrable enough to exploit areas of the auto market that others were too big to cover, the company from Kenosha offered an antidote to the excesses of Detroit's 'Big Three' - General Motors, Ford, and Chrysler.
Combining products lines, AMC refined its lineup during the 50s, dropping Nash and Hudson brands, and turning the Rambler into its own unique marque.
AMC were truly early pioneers in automotive innovation, incorporating safety and technology features into its vehicles years before the Big Three, and including everything from brake master cylinders and disc brakes, to adjustable backrests and reclining seats.
When America decided it wanted sporty, rather than econocars, AMC got groovy with the Javelin, AMX, Scrambler and Rebel Machine.
However, through it all came solid Rambler value, and a different approach from Detroit; an accent on consumer protection, and brand label special editions. And when it came to blue sky thinking, AMC surpassed all with their Gremlin and Pacer small cars.
Kenosha truly made Jeep 'The One & Only,' popularizing and expanding the brand, and making it the sales success it is today. And to cover all eventualities, AMC created America's first crossover, the Eagle.
From innovation, through style and speed, and with safety and practicality; it all proved that America's smallest was its biggest surprise!
| | |
| --- | --- |
| Autor: | Marc Cranswick |
| Szczegóły: | 288 strony, 25 x 20.5 cm, twarda oprawa |
| Ilustracje: | 422 czarno-białych i kolorowych zdjęć |
| Wydawca: | Veloce Publishing Ltd (GB, 2023) |
| EAN: | 9781787118034 |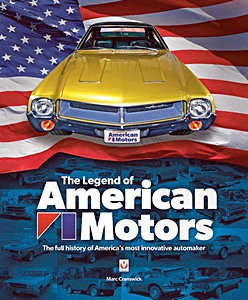 The Legend of American Motors - The Full History of America's Most Innovative Automaker
Język: angielski
Kup na Amazon PL
Kup na Amazon DE
Kup na Amazon.com