Le auto della Innocenti
Although there is no doubt that the fame of Innocenti worldwide is mainly due to Lambretta and to the productions in the field of large mechanics, from presses to rolling mills, to large steel plants, alongside all this it is also important to remember its presence in the automotive field. A presence that since the sixties has proposed, in addition to the production of well-known British cars such as the Mini, specific versions of BMC group cars for the Italian market. Versions that, both from an aesthetic point of view and for performance, featured significant innovations over the original UK-built models, such as the Innocenti Spider and Innocenti Morris IM3.
In a country where the automotive industry was firmly in the hands of the giant Fiat and Finmeccanica with Alfa Romeo, the opening of a new car factory was according to some authoritative personalities of the Italian industrial world, a gesture of great courage and, according to others, even a gesture of great unconsciousness.
Text in Italian.
| | |
| --- | --- |
| Autor: | Sandro Colombo |
| Szczegóły: | 180 strony, 28 x 24 cm, twarda oprawa |
| Ilustracje: | bogato ilustrowana |
| Wydawca: | Libreria ASI Service (IT, 2019) |
| EAN: | 9788898344185 |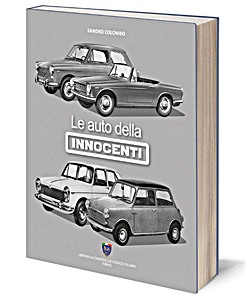 Le auto della Innocenti
Język: włoski
Kup na Amazon PL
Kup na Amazon DE
Kup na Amazon.com