Kaiser-Frazer 1947-1955
It was a marriage made in heaven - two great minds uniting to create an all-new car. Henry J Kaiser and Joseph Washington Frazer, strong-willed men of vision, boldly decided to take on America's Big Three automakers.
Hoping to position their Kaiser-Frazer Corporation in the big leagues of auto manufacturers they launched a radical new car to capture the public's imagination and produce it in unheard-of quantities. The cars were an immediate hit.
Thousands lined up to see and buy the new Kaiser and Frazer cars. In time K-F introduced hardtops, sedans, convertibles, an impressive fiberglass sports car and a line of low-priced compact cars. But eventually competition proved overwhelming, ending a valiant struggle.
Here is the full story of Kaiser-Frazer's struggle to succeed in an industry that killed so many competitors. Heartbreaking yet uplifting, it is an allegory of men and automobiles during perhaps the most exciting era the industry has ever known.
| | |
| --- | --- |
| Autor: | Patrick R. Forster, Bill Tilden |
| Szczegóły: | 128 strony, 21.5 x 26 x 1.1 cm, miękka oprawa |
| Ilustracje: | zdjęć czarno-białych |
| Wydawca: | Iconografix (USA, 2009) |
| EAN: | 9781583882399 |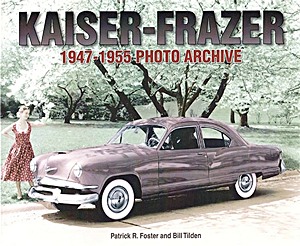 Kaiser-Frazer 1947-1955
Język: angielski
Kup na Amazon DE
Kup na Amazon.com