Mercedes-Benz W100: From the SWB 600 to the Pullman Landaulet
The mighty Mercedes-Benz 600 Grosser was developed with costs being no object. It was a majestic, technically advanced limousine that was an automotive benchmark for many years to come.
This 200-page guide tells its story. It walks you through the car's development and history, explains chassis number and data card and comes with many recent non-Daimler AG color photos, never published in a book before; this includes pictures of the suspension.
These are some of the topics covered:
- Short overview of the 770 predecessor history
- Development of the W100
- Technical aspects
- Comfort features
- The SWB 600
- The 600 Pullman and Landaulet
- Some of the owners
- Two unique 600
- In-house and third party conversions
- A possible facelift
- W100 chassis number explained
- W100 data card explained
- Paint and interior options
- Technical specifications.
| | |
| --- | --- |
| Autor: | Bernd S. Koehling |
| Szczegóły: | 209 strony, 28 x 21 x 1.7 cm, twarda oprawa |
| Ilustracje: | bogato ilustrowane, zdjęcia czarno-białe i kolorowe |
| Wydawca: | Bernd S. Koehling (D, 2021) |
| EAN: | 9798741990841 |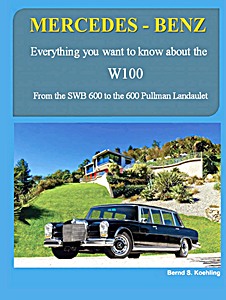 Mercedes-Benz W100: From the SWB 600 to the Pullman Landaulet
Język: angielski
Kup na Amazon PL
Kup na Amazon DE
Kup na Amazon.com