Mercedes-Benz: The 1960s (Volume 2) - W100, W108, W109, W113 - From the Pagoda SL and 600 to the W108/W109
The Mercedes 300 SEL 6.3 was a gamble, the 600 was at least for most European markets too big and flashy. The pagoda SL, launched at the same time as the 600, was an even bigger gamble. It had to replace not only the iconic 300 SL, but also the more affordable 190 SL.
Only the W108 was not a gamble. It was the consequent evolution of a successful executive car that finally did away with the "one body fits all engines" philosophy.
This 290-page book was last updated in Dec. 2016 and covers them all: the 600, Pagoda SL and the W108/109 with six- and eight-cylinder engines. It is one of over twenty-five books / e-books by the author about Mercedes cars.
These are some of the topics covered:
- The complete development and history of each model from the 230 SL and 600 to the 30 0SEL 6.3
- A comprehensive buyer's guide to help you to avoid costly mistakes when looking for a W113, W108 or W109 model
- Chassis number and data card explained in great detail
- Value changes over time on certain variants
- Paint and upholstery options
- Production history
- Engine and performance data of each model.
Some 230 recent non-Daimler AG color photos highlight many interesting and unique features, including pictures of the suspension.
| | |
| --- | --- |
| Autor: | Bernd S. Koehling |
| Szczegóły: | 290 strony, 28 x 21.5 cm, miękka oprawa |
| Ilustracje: | 70 zdjęć czarno-białych i 230 kolorowych |
| Wydawca: | Bernd S. Koehling (D, 2012) |
| EAN: | 9781480237223 |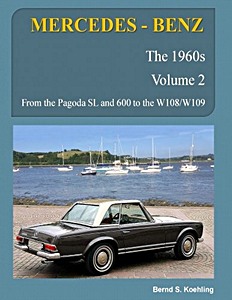 Mercedes-Benz: The 1960s (Volume 2) - W100, W108, W109, W113 - From the Pagoda SL and 600 to the W108/W109
Język: angielski
Kup na Amazon PL
Kup na Amazon DE
Kup na Amazon.com