Maserati - A Century of History - The Official Book
A project of high level meant to commemorate 100 years of Maserati, this work covers the history of the marque in all its aspects and is divided into three large sections.
The first chapter signed by Luca Dal Monte, deals with the company history and the marque's industrial matters: from the early years, when production was concentrated on racing cars, to the advent of the first GT of the immediate post-war period through to the great classics of the Fifties, Sixties and Seventies.
The 'Road cars and design' section by Lorenzo Ramaciotti, is specifically devoted to the Trident's road cars: from the A6 1500 to current production, including the extraordinary expressions of design offered by models like the 3500 and 5000 GT, the various Quattroportes, the Mistral, Ghibli, Indy to then approach the present day, touching on the 3200 GT and the current Quattroporte, Granturismo and GranCabrio.
Historic and modern pictures illustrate each of these models in a long photographic treatise, preceded by an introductory section which focuses on the historic matters associated with this vein of Maserati production.
The last section written by Cesare De Agostini and Gianni Cancellieri is about races: from the outset Maserati's history has mainly been one of racing, from the pioneering era to the glorious Fifties, as much in Formula 1 with the 1957 world championship won by Juan Manuel Fangio, as endurance races, Maserati has expressed itself with success at the top levels of the sport. But even before that, the glorious marque had written unforgettable pages in the annals of racing, including victories at Indianapolis in 1939 and 1940.
The recent success of the MC12 is the latest chapter in this proud history of achievement. There are also specific boxes in this section devoted to particular competitive aspects, such as the great road speed records (1926-1952) and the company's long experience in speedboat racing.
The book has received a nomination for the prestigious 2014 Motoring Book of the Year promoted by the Royal Automobile Club.
| | |
| --- | --- |
| Autor: | Gianni Cancellieri, Luca Dal Monte, Cesare De Agostini, Lorenzo Ramaciotti |
| Szczegóły: | 320 strony, 29.5 x 26.5 x 3.8 cm, twarda oprawa |
| Ilustracje: | 486 zdjęć czarno-białych i 262 kolorowych |
| Wydawca: | Giorgio Nada Editore (IT, 2014) |
| EAN: | 9788879115735 |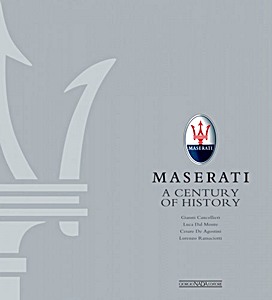 Maserati - A Century of History - The Official Book
Język: angielski
Kup na Amazon PL
Kup na Amazon DE
Kup na Amazon.com