Ford GT : How Ford Silenced the Critics, Humbled Ferrari and Conquered Le Mans
Henry Ford II, "the Deuce," wanted a race car capable of winning top-flight sports car events in Europe. Specifically, he wanted to win Le Mans.
Ford learned that Enzo Ferrari would consider selling his company and negotiations quickly ensued. But after Ford spent considerable time and money reviewing Ferrari's operations and negotiating with Enzo, Ferrari abruptly backed out of the talks.
The Deuce took Ferrari's actions as a personal insult. Word was sent down from on high: beat Ferrari. Ford settled on UK-based Eric Broadley's Lola GT, a cutting-edge car that featured a mid-engine chassis and small-block Ford V-8 power. The Lola GT would morph into the Ford GT.
Carroll Shelby helped shape it into the "Mark II" GT40. The result was one of the most legendary wins in racing history: Ford's 1-2-3 sweep of Le Mans in 1966. In fact, GTs went on to win Le Mans each year through 1969.
"Ford GT" celebrates the 50th anniversaries of Ford's iconic victories, providing the detailed back story leading to that historic 1966 win, as well as Ford's follow-up win in 1967.
The GT40's last two competitive seasons in 1968 and 1969 are also covered, as well as Ford's triumphant return to Le Mans in 2016 for a complete review of this remarkable era in racing.
Author Preston Lerner details the ups and downs of Ford's GT program, accompanied by Shelby American photographer Dave Friedman's historic images. Come re-live one of the most exciting stories in all of racing history!
| | |
| --- | --- |
| Autor: | Preston Lerner |
| Szczegóły: | 232 strony, 31.5 x 26.5 x 2.7 cm, twarda oprawa |
| Ilustracje: | 223 zdjęć czarno-białych i 77 kolorowych |
| Wydawca: | Motorbooks International (USA, 2015) |
| EAN: | 9780760347874 |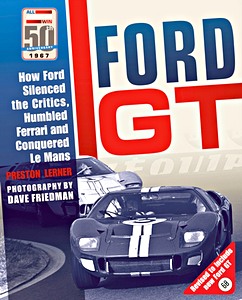 Ford GT : How Ford Silenced the Critics, Humbled Ferrari and Conquered Le Mans
Język: angielski
Kup na Amazon PL
Kup na Amazon DE
Kup na Amazon.com