Ford Station Wagons 1929-1991
The first station wagons were built to carry rail passengers and their luggage to and from the station and were called ''Depot Hacks.'' By the 1950s station wagons had become a common feature of suburban living.
From the Model T to the Pinto Cruising Wagon, this book chronicles Ford's entrees in this field. Included is a model history for each year with available options, production figures and more. A must have for all Ford Station Wagon fans.
| | |
| --- | --- |
| Autor: | Paul G. McLaughlin |
| Szczegóły: | 120 strony, 23 x 18.5 x 0.9 cm, miękka oprawa |
| Ilustracje: | zdjęć czarno-białych |
| Wydawca: | Iconografix (USA, 2003) |
| EAN: | 9781583881033 |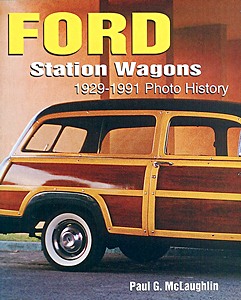 Ford Station Wagons 1929-1991
Język: angielski
Kup na Amazon PL
Kup na Amazon DE
Kup na Amazon.com