Ferrari Engines Enthusiasts' Manual : 15 Iconic Ferrari Engines from 1947 to the Present
This lavishly produced book provides a completely unique photographic insight into the design and interior components of 15 landmark Ferrari road-car engines, documenting the 'inside view' of the engines - each one a mechanical work of art.
Ferrari is renowned as an engine builder and 15 of its greatest engines, from the early 1950s Gioacchino Colombo-designed V12, through V6s, both normally aspirated and turbocharged V8s and boxer 12s, to the latest 6.3-litre V12 are documented in detail, with a chapter, and around 20 photographs for each engine.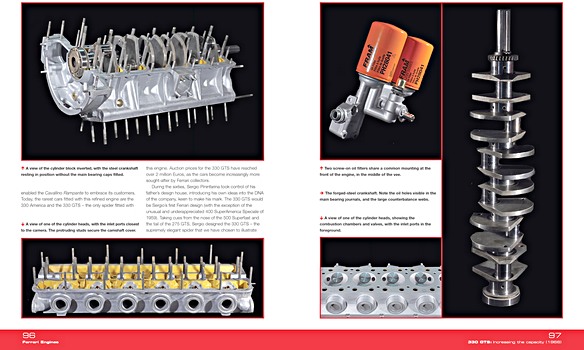 Coverage includes images of the complete, built engine from various angles, and views of the various castings and significant internal components, before taking a brief look at the car in which the engine is fitted.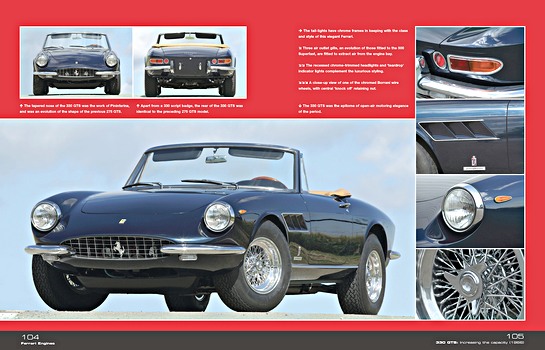 | | |
| --- | --- |
| Autor: | Francesco Reggiani |
| Szczegóły: | 256 strony, 27.5 x 21.5 x 2.4 cm, twarda oprawa |
| Ilustracje: | 330 czarno-białych i kolorowych zdjęć |
| Wydawca: | Haynes Publishing (GB, 2018) |
| EAN: | 9781785212086 |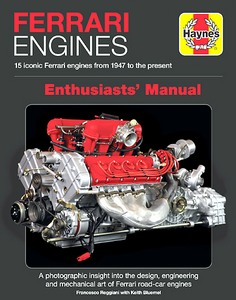 Ferrari Engines Enthusiasts' Manual : 15 Iconic Ferrari Engines from 1947 to the Present
Język: angielski
Kup na Amazon PL
Kup na Amazon DE
Kup na Amazon.com