The Definitive Pontiac GTO Guide: 1964-1967
After a brainstorming session, Pontiac executives and engineers decided to slot a 389-ci V-8 into the intermediate-sized Tempest against GM rules and the GTO was created. Little did they know what a profound impact that decision would make. The GTO would become a sensation and later was recognized as the first muscle car of the 1960s.
Pontiac expert and long-time writer David Bonaskiewich delves deep into the GTO model and its history, bringing the equipment and options of this iconic muscle car into full focus. He reveals the hardware under the sheet metal: the V-8 engines, manual and automatic transmissions, rear differentials, interior options, color codes, and so much more.
All the important upgrades, advancements, and model evolutions are covered in exceptional detail. If you have been searching for the in-depth, nuts-and-bolts guide to GTO equipment and options, you need look no further.
| | |
| --- | --- |
| Autor: | David Bonaskiewich |
| Szczegóły: | 195 strony, 28 x 21.5 cm, miękka oprawa |
| Ilustracje: | 7 zdjęć czarno-białych i 357 kolorowych |
| Wydawca: | CarTech Inc (USA, 2018) |
| EAN: | 9781613253854 |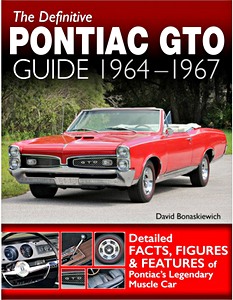 The Definitive Pontiac GTO Guide: 1964-1967
Język: angielski
Kup na Amazon PL
Kup na Amazon DE
Kup na Amazon.com