Art of Mopar : Chrysler, Dodge, and Plymouth Muscle Cars
The history of Chrysler Corporation is, in many ways, a history of a company floundering from one financial crisis to the next. While that has given shareholders fits for nearly a century, it has also motivated the Pentastar company to create some of the most outrageous, and collectible, cars ever built in the United States.
From the moment Chrysler unleashed the Firepower hemi V-8 engine on the world for the 1951 model year, they had been cranking out the most powerful engines on the market. Because the company pioneered the use of lightweight unibody technology, it had the stiffest, lightest bodies in which to put those most powerful engines, and that is the basic muscle-car formula: add one powerful engine to one light car.
When the muscle car era exploded onto the scene, Chrysler unleashed the mighty Mopar muscle cars, the Dodges and Plymouths that defined the era.
Fabled nameplates like Charger, Road Runner, Super Bee, 'Cuda, and Challenger defined the era and rank among the most valuable collector cars ever produced by an American automaker.
Featuring cars from the incomparable Brothers' Collection, "The Art of Mopar: Chrysler, Dodge, and Plymouth Muscle Cars" celebrates these cars in studio portraits using the light-painting process perfected by Tom Loeser. It is the ultimate portrayal of the ultimate muscle cars.
| | |
| --- | --- |
| Autor: | Tom Glatch |
| Szczegóły: | 224 strony, 26 x 31.5 x 2.4 cm, twarda oprawa |
| Ilustracje: | 2 zdjęć czarno-białych i 248 kolorowych |
| Wydawca: | Motorbooks International (USA, 2017) |
| EAN: | 9780760352496 |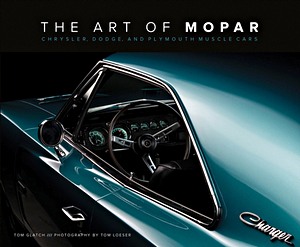 Art of Mopar : Chrysler, Dodge, and Plymouth Muscle Cars
Język: angielski
Kup na Amazon PL
Kup na Amazon DE
Kup na Amazon.com