BMW Mini - An Enthusiast's Guide
The R-Series BMW Mini had a lot to live up to. Launched in 2001, it was riding in the wake of the classic 1959-2000 Mini. At the time, BMW were going to have to create something as special and innovative as its longstanding predecessor in order to silence the naysayers.
And they did. Since its launch in 2001, BMW's modern Mini has become the pinnacle of small yet funky family cars in the premium small (and sometimes not so small) car segment.
Now in its third generation, having unveiled the new F-Series in 2014, BMW Mini offers 3- and 5-door hatchback models and convertibles, the estate Clubman, the five-door Countryman, the Coupe, the Roadster and the three-door crossover Paceman.
Mini enthusiast and motoring journalist Sophie Williamson-Stothert explores the journey from 1959 to the present day, covering design and development of the new Mini, launch and reception by the press, its many model variations and special editions, and an owner's and buyer's guide.
| | |
| --- | --- |
| Autor: | Sophie Williamson-Stothert |
| Szczegóły: | 128 strony, 24.5 x 19 x 0.9 cm, miękka oprawa |
| Ilustracje: | 170 kolorowych zdjęć |
| Wydawca: | The Crowood Press Ltd (GB, 2016) |
| EAN: | 9781785001437 |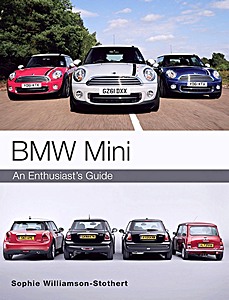 BMW Mini - An Enthusiast's Guide
Język: angielski
Kup na Amazon PL
Kup na Amazon DE
Kup na Amazon.com