Lola - The T70 and Can-Am Cars
In the most glittering era of sports car racing, the late 1960s and early 1970s, the Lola T70 and its descendants radiated star quality. These big racers, both brutal and beautiful, graced the Can-Am stage in North America as open spyders and the world sports car championship as closed coupés.
Powered by big American V8 engines, they were massively fast and exceedingly popular, both with fans and the racers themselves.
In this important new book, which has taken Lola enthusiast Gordon Jones three decades to complete, the racing history of the T70 and the Can-Am models that followed - from T160 to T310 - is exhaustively recorded, complete with a superb array of 700 photographs. All sports car devotees will treasure this labour of love.
| | |
| --- | --- |
| Autor: | Gordon Jones |
| Szczegóły: | 480 strony, 29 x 24 x 3.8 cm, twarda oprawa |
| Ilustracje: | 700+ zdjęcia czarno-białe i kolorowe |
| Wydawca: | Evro Publishing (GB, 2021) |
| EAN: | 9781910505533 |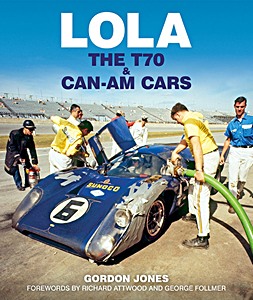 Lola - The T70 and Can-Am Cars
Język: angielski
Kup na Amazon PL
Kup na Amazon DE
Kup na Amazon.com