Jowett - A Century of Memories
In 1906, brothers Benjamin and William Jowett designed and built their first car. Within four years, in 1910, they had started production of the Jowett, an ultra-economy light car in their home town of Bradford.
In 2010, Jowett owners came together in Yorkshire to mark the centenary of the marque. A wide variety of Jowett cars and commercials appeared at the centenary rally. From Jowett Bradfords to Jupiters and Javelins as well as Long Fours and Kestrels, the list of reliable and long-lasting Jowetts is an illustrious one.
Despite the company closing down its idle Bradford factory in 1954, Jowetts still engender a loyal following amongst enthusiasts. Famous owners have included John Surtees, the racing driver; Peter Ustinov, John Blashford-Snell and Martin Fry, lead singer of ABC, all owning Jowetts due to their rugged individualism.
Noel Stokoe, author of many books on Jowett, brings together a potted history of the marque with a selection of letters from previous owners as well as many previously-unpublished images of Jowetts, using the archives of the Jowett Car Club, one of the oldest one-marque car clubs in existence.
| | |
| --- | --- |
| Autor: | Noel Stokoe |
| Szczegóły: | 160 strony, 24.5 x 17 x 1.3 cm, miękka oprawa |
| Ilustracje: | 110 czarno-białych i kolorowych zdjęć |
| Wydawca: | Amberley Publishing (GB, 2010) |
| EAN: | 9781445600871 |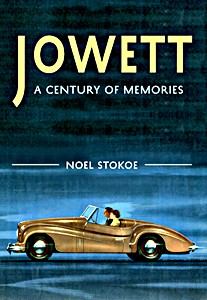 Jowett - A Century of Memories
Język: angielski
Kup na Amazon PL
Kup na Amazon DE
Kup na Amazon.com