Jaguar Mark 1 & 2 : A Celebration of Jaguar's Classic Sporting Saloons
The compact Jaguar saloons of the 1950s and 1960s were some of the most popular performance cars of their day, became a legend in their own time, and now are considered one of the most collectable of classics.
In this fascinating, extensively illustrated book, Nigel Thorley describes the year by year history and development of the Jaguar Mark 1 and Mark 2 models, from the original design concept in the early 1950s, through to the final variants produced at the end of the 1960s.
The author unearths many anecdotes and curiosities along the way, as well as covering the main body of evolution, to become the most popular and profitable models in the Jaguar range for many years.
With a fabulous collection of period and specially commissioned photographs, this publication represents a feast of valuable information for anyone interested in general motoring history, Jaguar specific information, as well as for enthusiasts and owners of these fine cars.
Out of print for some years, this popular book is now available again from Veloce as part of their Classic Reprint series.
Features:
- A complete history of Jaguar's Mark 1 & 2 saloons
- A fabulous selection of period colour photographs, press material and specially commissioned studio photography
- Includes the story of their motorsport successes
- Contains fascinating anecdotes and curiosities
- A celebration of great British design
- Written by leading Jaguar expert Nigel Thorley
- A deserving recipient of the title 'Great Car'
- Jaguar Mark 1 & 2 - a bench-mark by which all other classic cars are judged
- Includes V8 Daimler models.
| | |
| --- | --- |
| Autor: | Nigel Thorley |
| Szczegóły: | 160 strony, 25.5 x 25.5 x 2 cm, twarda oprawa |
| Ilustracje: | 269 czarno-białych i kolorowych zdjęć |
| Wydawca: | Veloce Publishing Ltd (GB, 2017) |
| Seria: | Veloce Classic Reprint |
| EAN: | 9781787110243 |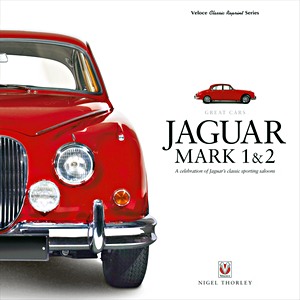 Jaguar Mark 1 & 2 : A Celebration of Jaguar's Classic Sporting Saloons
Język: angielski
Kup na Amazon PL
Kup na Amazon DE
Kup na Amazon.com