The Jaguar Book
Fitting for the 60th birthday of the E-Type: star photographer René Staud stages the epitome of elegance and luxury in body form - the Jaguar. A fast-paced ride through the model range of the cult brand plus highlights from racing history, legendary film appearances and exclusive insights into the garages of celebrities.
Elegance and luxury - that's what the Jaguar brand stands for. Founded in 1922 by William Lyons and William Walmsley as Swallow Sidecars and renamed Jaguar Cars Ltd. after 1945, the brand still inspires numerous car lovers after 100 years.
Legendary Jaguar models such as the E-Type or XK 140, the SS 90 from the 1930s, the elegant Mark 2 from 1959 or the I-Pace as Jaguar's first electric car: star photographer René Staud, who has already published several bestsellers with teNeues, offers a captivating rally through the model range of the British carmaker in this book with his impressive, lavishly produced pictures.
Jürgen Lewandowski is responsible for the text. In addition to the models from a century of Jaguar, there are exciting stories about racing history or iconic Jaguar film appearances in James Bond, Harold and Maude & Co.
This volume is a must-have for lovers of elegant cars and aesthetic automotive photography: As dazzling as a film star and "a very British affair": For 99 years, Jaguar has been synonymous with elegance and luxury in automotive culture - it is high time to commemorate the horsepower icons from England with this extraordinary book of photographs.
| | |
| --- | --- |
| Autor: | René Staud, Jürgen Lewandowski |
| Szczegóły: | 272 strony, 35 x 28.5 x 2.8 cm, twarda oprawa |
| Ilustracje: | 29 zdjęć czarno-białych i 146 kolorowych |
| Wydawca: | teNeues Verlag GmbH + Co KG (D, 2021) |
| EAN: | 9783961713592 |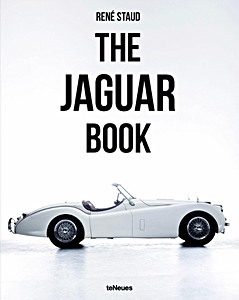 The Jaguar Book
Język: angielski
Kup na Amazon PL
Kup na Amazon DE
Kup na Amazon.com