Fiat 124 (1966-1976)
The 124 is one of the widest an most etherogeneous car families in Fiat's history. Born as a quiet saloon, along with a practical station-wagon version, it was later developed also as a sports car with the twin-cam saloons, with the famous Sport Spider and Coupé, to end with the ubeatable Abarth Rally.
The 124 was also built and sold in several foreign countries, from Spain to Soviet Union. from Turkey to Korea.
This book features all its history, from the beginning of the project to the following developments, packed with several illustrations and detailed technical data sheets of every version.
| | |
| --- | --- |
| Autor: | Alessandro Sannia |
| Szczegóły: | 128 strony, 19.5 x 27 cm, miękka oprawa |
| Ilustracje: | 250+zdjęcia czarno-białe i kolorowe |
| Wydawca: | Il Cammello (I, 2014) |
| EAN: | 9788896796238 |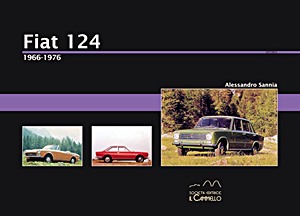 Fiat 124 (1966-1976)
Język: włoski
Kup na Amazon PL
Kup na Amazon DE
Kup na Amazon.com