Ferrari - The Turbo Eight Cylinders (1982-1989) : 208 turbo, 288 GTO, GTB / GTS turbo, F40
This book tells the story of the four eight-cylinder turbo-charged road Ferrari of the 80's: from the 208 turbo to the F40; with references to the Formula 1 cars from which these models derived. Apart from the stories, it includes over 300 colour, as well as black and white, images.
The story begins with the origins of the eight-cylinder Ferrari range, and their evolution - explaining the reasons that led to the supercharged models through anecdotes, recollections from some of the people directly involved in the developments, and the Author's personal memories of the era and its cars.
It goes on to describe, with detailed information and images, the turbocharged road Ferrari of the 80's, in particular the two-litre versions.
The story is enriched by original interviews with many of the experts who were involved, in various ways, in the realization of these cars - including the legendary Engineer Mauro Forghieri, and a comment from the era by Commendatore Enzo Ferrari himself.
The book concludes with a "purchase guide" for these models (with particular reference to the two-litre versions) and a brief mention of the current Ferrari models which feature a turbocharged eight-cylinder mid-rear engine.
| | |
| --- | --- |
| Autor: | Alberto Mantovani |
| Szczegóły: | 238 strony, 29.5 x 21 x 1.4 cm, miękka oprawa |
| Ilustracje: | 300+ zdjęcia czarno-białe i kolorowe |
| Wydawca: | YouCanPrint (I, 2019) |
| EAN: | 9788831639477 |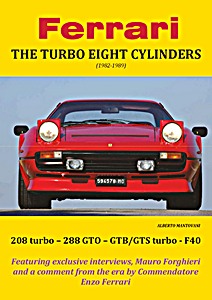 Ferrari - The Turbo Eight Cylinders (1982-1989) : 208 turbo, 288 GTO, GTB / GTS turbo, F40
Język: włoski
Kup na Amazon PL
Kup na Amazon DE
Kup na Amazon.com