Camaro Exposed 1967-1969: Designs, Decisions and the Inside View
This book tells the story of the formative and most collectible years of that classic pony car. Paul Zazarine, the noted muscle car enthusiast and expert, documents the rise of the Camaro from the first glimmer in Chevrolet's eye to the mighty COPO 427 Camaro.
"Camaro Exposed" documents through first-hand reminisces of GM engineers and previously unpublished photos the development of GM's high-performance muscle car. For the first time, the reader will be able to view the proposed Camaro station wagon, Camaro fastback, and other amazing designs that GM had seriously considered as it waged a sales war with Ford's highly successful Mustang.
Camaro performance enthusiasts will find special delight in the chapter devoted to one of the greatest muscle cars: the Z/28. Learn how the car was first conceived, the various stages of its development, and how Ford battled back in the showroom and on the track with the Boss 302.
To top off the story, Zazarine includes a chapter on the ultimate Camaro: the COPO 427. Remember the days of Yenko, Nickey, Baldwin-Motion, and Dana Chevrolet - those "little old Chevy dealers" with the monster Camaro options? Camaro Exposed reproduces the original ads dealers used to promote these ultra-potent Camaros and their drag racing conquests.
"Camaro Exposed, 1967-1969: Designs, Decisions and the Inside View" is mandatory for muscle car and Camaro lovers. With first-hand interviews and unpublished photos.
| | |
| --- | --- |
| Autor: | Paul Zazarine |
| Szczegóły: | 175 strony, 26.5 x 20 x 1.4 cm, miękka oprawa |
| Ilustracje: | 165 czarno-białych i kolorowych zdjęć |
| Wydawca: | Bentley Publishers (USA, 2002) |
| EAN: | 9780837608761 |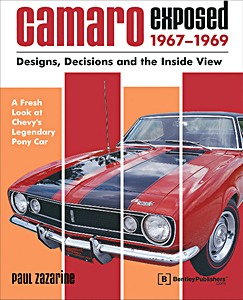 Camaro Exposed 1967-1969: Designs, Decisions and the Inside View
Język: angielski
Kup na Amazon PL
Kup na Amazon DE
Kup na Amazon.com