BMW Z cars: Roadsters and Coupes - A design and development history
From 1930 to today, BMW's roadsters and their coupe derivatives have represented the essence of sheer driving pleasure. These are BMW's fun cars, with high-revving engines, agile handling, and seating for just two.
This book presents a comprehensive history of BMW roadsters. It begins with the earliest sports racers of the 1930s - including the race-winning 315/1 and 328 - and the fabulous 507 of the 1950s before moving on to the roadster renaissance that began with the innovative Z1 and wildly popular Z3, and which continues through the latest Z4 and i8 Roadster.
All of the coupe, racing and M variants are covered, along with the Z1 Art Car and Alpina V8. So are spectacular concepts including the Z2, GINA, Z8 Coupe, Mille Miglia Concept Coupe, and Vision ConnectedDrive.
Relying on extensive interviews with the principle players, "BMW Z cars: Roadsters and Coupes" introduces the designers and engineers who transformed these legendary cars from inspiration to reality, from sketch to sheet metal. It even reveals how BMW's roadsters came to be identified with the letter Z. Contrary to what you've read elsewhere, it has nothing to do with the word Zukunft, German for future!
| | |
| --- | --- |
| Autor: | Jackie Jouret |
| Szczegóły: | 164 strony, 25.5 x 20.5 x 0.9 cm, miękka oprawa |
| Ilustracje: | bogato ilustrowana |
| Wydawca: | ID Media LLC (USA, 2021) |
| EAN: | 9781733387873 |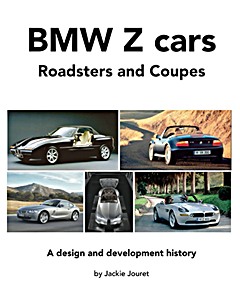 BMW Z cars: Roadsters and Coupes - A design and development history
Język: angielski
Kup na Amazon PL
Kup na Amazon DE
Kup na Amazon.com