Factory-Original Austin-Healey 100/6 & 3000 : The originality guide to six-cylinder Austin-Healeys, 1956-1968
An inspired design by Donald Healey and his small team at the Healey Motor Company, the four-cylinder Austin-Healey 100 sports car had proved a major success and made a big name for itself by the time its successor, the six-cylinder 2.6-litre 100/6, arrived in 1956. This came as a 2+2 seater, joined in 1958 by a two-seat version.
Both were replaced by the more powerful 3000 model in 1959, again offered as a two-seater or 2+2, and available with disc brakes.
The Mk II 3000, launched in 1961, could be had either as a 132bhp two-seater with triple carburettors and side screens, which only sold in small numbers, or as the less spartan 2+2 convertible with wind-up windows, and the final version was the 2+2-only 1964 Mk III, now with 150bhp, a wood-veneered dash and better appointments.
All these "Big Healeys" are as much admired and sought-after today as when they were new, offering a splendid mix of looks and performance as well as the traditional sports car attributes of open-air motoring and a gutsy exhaust note.
Here marque expert Bill Piggott gives full details of correct specification and equipment for all these cars, backed up by in-depth colour photography of outstanding examples of all models and variants. Body panels, external trim and badging, paint colours, interior trim, dashboard, instruments and controls, under-bonnet components, engine and transmission, lamps, and other features right down to the tool kit, are all covered.
More than 350 specially commissioned colour photographs of outstanding examples of all models provide evidence of the originality in detail that so many owners and prospective owners of these great cars seek.
| | |
| --- | --- |
| Autor: | Bill Piggott |
| Szczegóły: | 168 strony, 25.5 x 25.5 cm, twarda oprawa |
| Ilustracje: | 350+ kolorowych zdjęć |
| Wydawca: | Herridge & Sons Ltd (GB, 2014) |
| Seria: | Factory-Original |
| EAN: | 9781906133573 |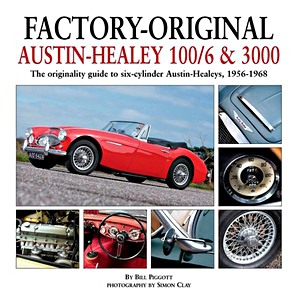 Factory-Original Austin-Healey 100/6 & 3000 : The originality guide to six-cylinder Austin-Healeys, 1956-1968
Język: angielski
Kup na Amazon PL
Kup na Amazon DE
Kup na Amazon.com