Alfa Romeo: a Century of Innovation
Alfa Romeo, one of the most famous and renowned carmakers in automobile history, celebrates 100 years of innovation. This fascinating history documents the Milanese automaker, from the exciting racing and sports cars of the twenties and thirties to the equally advanced and sporty sedans, coupes, and convertibles of the fifties and sixties to the present-day range of technically evolved, innovative vehicles.
A comprehensive, visual, and informative tour through the make's evolution, this book covers bios of key, company innovators; technical sketches; and plenty of exciting full-color images of a star lineup.
For the make's many fans, this journey is filled with passion and fascination.
| | |
| --- | --- |
| Szczegóły: | 136 strony, 28 x 22.5 x 1.9 cm, twarda oprawa |
| Ilustracje: | 215 czarno-białych i kolorowych zdjęć |
| Wydawca: | Schiffer Publishing Ltd (USA, 2012) |
| EAN: | 9780764340727 |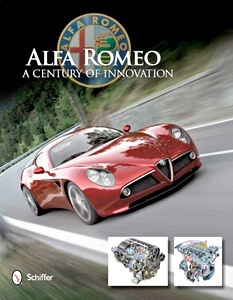 Alfa Romeo: a Century of Innovation
Język: angielski
Kup na Amazon PL
Kup na Amazon DE
Kup na Amazon.com