Moretti - Motocicletti, automobili, carrozzerie
Moretti was a big name in Italian motoring history, his activities ranging over several fields for more than sixty years. Moretti built motorcycles and three-wheelers, then worked on electric vehicles during wartime before becoming an important car-manufacturer, the fourth biggest in Italy.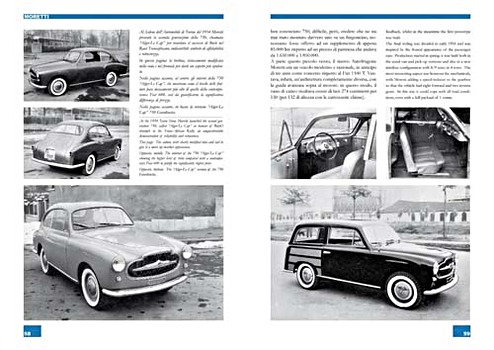 Finally, he was a major coachbuilder and originator of many famous models from the Grand Turismos to the small Midimaxi off-roaders.
This book, the result of a long and deep research, tells all the history of Moretti, illustrating it with a very big picture directory that cover all its production.
| | |
| --- | --- |
| Autor: | Alessandro Sannia |
| Szczegóły: | 216 strony, 29.5 x 21 cm, twarda oprawa |
| Ilustracje: | 420+ zdjęcia czarno-białe i kolorowe |
| Wydawca: | Il Cammello (I, ) |
| EAN: | 9788896796276 |
Moretti - Motocicletti, automobili, carrozzerie
Język: angielski + włoski
Kup na Amazon PL
Kup na Amazon DE
Kup na Amazon.com