A-Z of Cars of the 1930s (Classic and Sports Car Magazine)
This outstanding reference book provides encyclopaedic coverage of every make and model of British, European and American car sold in Britain during the 1930s. Some 1000 models are dealt with in individual entries giving production and specification information and a description. Every model is illustrated.
Firmly established as the most comprehensive illustrated reference works available on the subject, the books in the Classic and Sports Car A-Z series provide unique individual coverage and analysis of every make and model of car sold in Britain, with:
- Photographs of all models
- Production dates and numbers
- Specifications and body types
- Descriptions and recognition features
- Historical notes on all makes.
| | |
| --- | --- |
| Autor: | Michael Sedgwick, Mark Gillies |
| Szczegóły: | 216 strony, 26 x 19 x 1.7 cm, miękka oprawa |
| Ilustracje: | zdjęć czarno-białych |
| Wydawca: | Herridge & Sons Ltd (GB, 2010) |
| EAN: | 9781906133252 |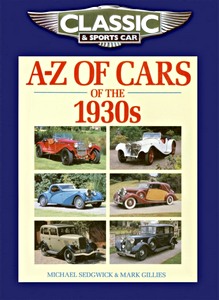 A-Z of Cars of the 1930s (Classic and Sports Car Magazine)
Język: angielski
Kup na Amazon PL
Kup na Amazon.com