ERA (1934-1994) - Brooklands Gold Portfolio
Un livre de Brooklands consacré aux voitures de sport ERA des années 1934-1994.
Les articles, parus à l'époque dans la presse automobile anglo-saxonne, sont une bonne source d'information sur l'histoire, l'évolution des modèles et la technique.
Cet ouvrage contient aussi des impressions de conduite, des tests routiers et comparatifs, des données techniques, etc.
Contient aussi le livre complet "The Story of the ERA" de John Lloyd.
Cliquez ici pour plus d'information sur les livres Brooklands Portfolio
| | |
| --- | --- |
| Présentation : | 172 pages, 27 x 20 x 1 cm, broché |
| Illustration : | 350 photos |
| Editeur : | Brooklands Books (GB, 1995) |
| Série : | Gold Portfolio |
| EAN: | 9781855202672 |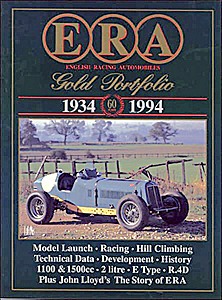 ERA (1934-1994) - Brooklands Gold Portfolio
Langue : anglais
Acheter sur Amazon FR
Acheter sur Amazon BE
Acheter sur Amazon CA