Brough Superior - The Complete Story
de Peter Miller (Auteur)
George Brough started building motorcycles shortly after the First World War. The machines were named Brough Superior both to distinguish them from his father's Brough machines and to denote the highest levels of performance and quality of manufacture. Throughout the 1920s and 1930s, the name Brough Superior was synonymous with the very best in motorcycle design. The machines gained fame in the hands of riders such as Bert le Vack, Eric Fernihough, Noel Pope and T E Lawrence 'Lawrence of Arabia'.
This book documents the full story of Brough and Brough Superior from the early years of the twentieth century through to the end of production in the Second World War, and post-war attempts at revival.
Contents include: The history of Brough Motors - The full history of Brough Superior motorcycles and cars - Brough Superiors in competition and record breaking - Special models - Biographies of key individuals - Full specifications.
| | |
| --- | --- |
| Présentation : | 320 pages, 28.5 x 22.5 x 2.4 cm, relié |
| Illustration : | 300 photos en couleurs |
| Editeur : | The Crowood Press Ltd (GB, 2010) |
| Série : | The Complete Story |
| EAN: | 9781847971128 |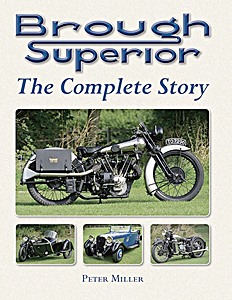 Brough Superior - The Complete Story
Langue : anglais
Acheter sur Amazon FR
Acheter sur Amazon BE
Acheter sur Amazon CA