FR
NL
Home >
NL >
British Leyland boeken (1)
Meer dan 10.000 titels - grote voorraad - eenvoudig bestellen - stevige verpakking - snelle levering (met track en trace)
British Leyland boeken - historie, modellen en techniek (1)
Een boek over de British Leyland? Ontdek hier onze boeken over de historie, modellen en techniek van BLMC personenwagens (Austin, MG, Mini, Morris, Riley, Rover, Triumph en Wolseley).
British Leyland : The Cars, 1968-1986
Samenvatting - In 1968, British Leyland brought together most of Britain's motor manufacturers, with the intention of creating a robust unified group that could equal the strength of the big European conglomerates. But this was not to be.
There have been many books about the politics and the business activities of British Leyland, but "British Leyland - The Cars, 1968 - 1986" looks deliberately at the cars that came from the company, both the models it inherited and it created.
The eighteen years of the corporation's existence saw a confusing multitude of different car types, but this book resolves these confusions, clarifying who built what, and when.
The book takes 1986 as its cut-off point because this was the year that the old British Leyland ceased to exist and what was left of the car and light commercial business was renamed the Rover Group.
| | |
| --- | --- |
| Uitgever: | The Crowood Press Ltd (GB, 2018) |
| Auteur: | James Taylor |
| Taal: | Engels |
| Uitvoering: | 192 blz, 28 x 21.5 x 2 cm, harde kaft |
| Illustraties: | 63 z/w- en 173 kleurenfoto's |
| EAN: | 9781785003912 |
| Staat: | nieuw boek (papier) |
| Gewicht: | 935 g |
| Bestelcode: | GCRP0391 |
| Prijs: | 37.25 euro |
| Levertijd: | |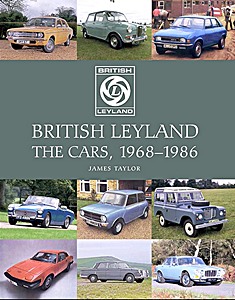 British Leyland : The Cars, 1968-1986
Kennis en ervaring
Sinds 2000 importeert de TMB Bookshop technische boeken van Haynes, Chilton, Clymer, Brooklands, ETAI, Bucheli, Motorbooks, Motorbuch Verlag en andere bekende uitgevers.
Grote keuze uit meer dan 10.000 titels
Alleen nieuwe boeken, geen tweedehands
Grote eigen voorraad
Korte levertijd
Stevige verpakking
Bestellen is eenvoudig. U hoeft geen account aan te maken!
Veilig betalen per overschrijving via uw eigen bank. Een creditcard is niet nodig!
Zodra uw bestelling is verstuurd, ontvangt U per e-mail nog het pakket-nummer. Hiermee kunt U het pakje via het internet volgen.
Uw privacy is gewaarborgd
Wij versturen met:
TMB Nieuwsbrief
Wilt U op de hoogte blijven van de verschijning van nieuwe boeken? Meldt U dan aan voor de gratis TMB Nieuwsbrief.
Powered by NOP Design, indexed by FreeFind
Laatste update: 20-03-2019