Meer dan 10.000 titels - grote voorraad - eenvoudig bestellen - stevige verpakking - snelle levering (met track en trace)
Bizzarini boeken - historie, modellen en techniek (1)
Een boek over Bizzarini sportwagens? Ontdek hier onze boeken over de geschiedenis, modellen en techniek van Bizzarini.
ISO and Bizzarrini - Brooklands Portfolio
Brooklands Limited Edition Ultra boek over de verschillende ISO en Bizzarrini modellen. Beschrijft o.a. de Rivolta GT, Grifo A3L Berlinetta, Grifo A3C en 2+2.
De artikelen, overgenomen uit toenmalige Britse en Amerikaanse autotijdschriften, geven veel informatie over historie, modelwijzigingen en techniek.
Ook rij-impressies, tests, vergelijkingstests, technische gegevens, enz.
Klik hier voor meer informatie over de Brooklands Portfolio boeken
| | |
| --- | --- |
| Uitgever: | Brooklands Books (GB, 2008) |
| Taal: | Engels |
| Uitvoering: | 208 blz, 27.2 x 20 x 1.4 cm, paperback |
| Illustraties: | 350 z/w foto's |
| EAN: | 9781855207721 |
| Staat: | nieuw boek (papier) |
| Gewicht: | 496 g |
| Bestelcode: | XIBX4 |
| Prijs: | 28.50 euro |
| Levertijd: | |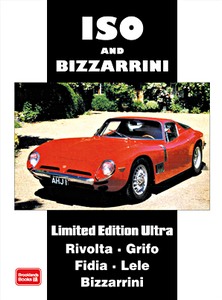 ISO and Bizzarrini - Brooklands Portfolio
ISO Bizzarrini : The Remarkable History of A3/C 0222 (Exceptional Cars)
Samenvatting - This book tells the fascinating story of the last and most successful of the Iso AC/3 Grifo race cars from the fabulous period of sports car racing in the mid-1960s. The A3/C was the creation of Giotto Bizzarrini, the engineer who developed the famed Ferrari 250 GTO.
In its short but varied racing career, which included outings with two Grand Prix drivers, '222' showed itself to be one of the world's fastest racing sports and GT cars, its top speed on the Mulsanne straight at Le Mans, nearly 190mph, bettered only by the 7-litre Ford GT Mk II.
This book celebrates the life of '222' and the against-the-odds efforts of Bizzarrini, a genius with the ambition to produce the best GT race car of its era.
Key points:
- The story of the car that won its class and finished in ninth place overall against formidable opposition in the Le Mans 24 Hours of 1965.
- The car's conception, design and development - masterminded by Giotto Bizzarrini - covered in detail, complete with rare period images.
- The background and achievements of Bizzarrini the man outlined and assessed, including his role at Ferrari.
- Five international events in 1965 - as an Iso run by Giotto Bizzarrini - recorded in full, with superb photos.
- Biographical details of all drivers who competed with the car, including Chris Amon (in Austria at the 200 Miles of Zeltweg) and Maurice Trintignant (in France at the Mont Dore hill climb).
- Contains many first-hand accounts, including from surviving drivers and other participants in the story.
- Later life: rebadged as a Bizzarrini, sold as a road car to a colourful American living in Rome, passed through further owners, ending up today in enthusiast Bruce Meyer's California-based car collection, returned in every detail to its original race specification.
- The book includes a portfolio of magnificent studio images by noted American photographer Peter Harholdt.
| | |
| --- | --- |
| Uitgever: | Porter Press International (GB, 2016) |
| Auteur: | Richard Heseltine |
| Taal: | Engels |
| Uitvoering: | 128 blz, 28 x 24 cm, harde kaft |
| Illustraties: | 136 z/w- en kleurenfoto's |
| EAN: | 9781907085543 |
| Staat: | nieuw boek (papier) |
| Gewicht: | 1200 g |
| Bestelcode: | GPRT8554 |
| Prijs: | 45.25 euro |
| Levertijd: | |
ISO Bizzarrini : The Remarkable History of A3/C 0222 (Exceptional Cars)
Andere boeken in deze categorie: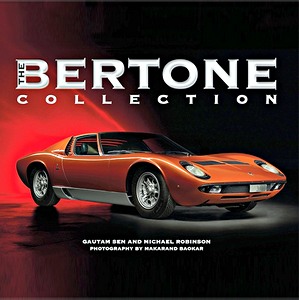 The Bertone Collection
Best in Show - Italian Cars Masterpieces from the Lopresto Collection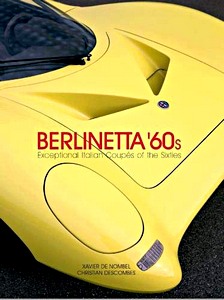 Berlinetta `60s : Exceptional Italian Coupes of the 1960s
Carrozzieri Italian / Italian Coachbuilders : I Maestri Dello Stile / The Masters of Style
Kennis en ervaring
Sinds 2000 importeert de TMB Bookshop technische boeken van Haynes, Chilton, Clymer, Brooklands, ETAI, Bucheli, Motorbooks, Motorbuch Verlag en andere bekende uitgevers.
Grote keuze uit meer dan 10.000 titels
Alleen nieuwe boeken, geen tweedehands
Grote eigen voorraad
Korte levertijd
Stevige verpakking
Bestellen is eenvoudig. U hoeft geen account aan te maken!
Veilig betalen per overschrijving via uw eigen bank. Een creditcard is niet nodig!
Zodra uw bestelling is verstuurd, ontvangt U per e-mail nog het pakket-nummer. Hiermee kunt U het pakje via het internet volgen.
Uw privacy is gewaarborgd
Wij versturen met:
TMB Nieuwsbrief
Wilt U op de hoogte blijven van de verschijning van nieuwe boeken? Meldt U dan aan voor de gratis TMB Nieuwsbrief.
Powered by NOP Design, indexed by FreeFind
Laatste update: 14-07-2019