The Big Healeys
de John Nikas (Auteur)
With their sleek and powerful looks, the big Austin-Healeys have always made an impression. In this revealing book, the author explores the development of the "Big" Healeys, as distinct from the smaller Austin-Healey Sprite, to produce a comprehensive and compelling account of one of the iconic British sports cars.
After Donald Healey's sports car design impressed the managing director of Austin, Leonard Lord, at the 1952 London Motor Show, Healey was given the engineering back-up that he needed to produce the car in quantity.
Teaming up with Jensen Motors to produce the bodywork, Austin provided the mechanical components at their Longbridge factory. The new car was known as the Austin-Healey 100, because it could achieve 100 mph.
This book also follows the development of the Austin-Healey 100-Six and the Austin-Healey 3000, describing both the technical developments and the achievements of the cars in competitions and as record-breakers.
Every enthusiast of the marque should have this comprehensive review of the design and manufacture of the Big Healeys on their bookshelf, which reveals previously untold stories to tell you the real story of these magnificent vehicles and the men that made them possible.
| | |
| --- | --- |
| Présentation : | 96 pages, 23.5 x 16.5 x 1.1 cm, broché |
| Illustration : | 100 photos en N&B et couleurs |
| Editeur : | Amberley Publishing (GB, 2017) |
| EAN: | 9781445673806 |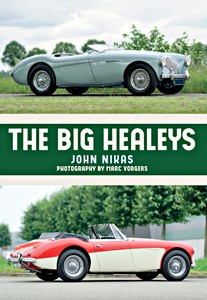 The Big Healeys
Langue : anglais
Acheter sur Amazon FR
Acheter sur Amazon BE
Acheter sur Amazon CA