Coches deportivos Allard: libros - historia, modelos y técnica
¿Un libro sobre coches deportivos Allard? Descubra aquí libros dedicados a la historia, las versiones y la técnica de los coches deportivos Allard.
Allard - The Complete Story
de Alan Allard, Lance Cole (Autor)
The remarkable story of everything Sydney Herbert Allard achieved in motor sport and motor car manufacture is framed in an up-to-date commentary co-authored by his own son. This is a tribute unswayed by legend, but based on the facts and achievements of his eponymous company.
With contributions from the Allard Owners' Club and Allard Register, this book contains painstaking research of Allard history from 1929 to the present day, including previously unpublished material.
Just under 2,000 Allards were built, and approximately 510 are believed to remain on the road or known to be under -restoration. More await discovery - even as this book was being written, one of Sydney's long-lost 1930s 'Allard Specials' has been found after years being forgotten.
Other topics covered in this remarkable book include: car-by-car engineering and design details; unseen ideas and projects; the history of the Allard marque in motor sport and the Allard story in the USA.
| | |
| --- | --- |
| Presentación: | 240 páginas, 28 x 21.5 x 2.3 cm, tapa dura |
| Ilustración: | 249 fotos en b/n y color |
| Editor: | The Crowood Press Ltd (GB, 2019) |
| Serie: | The Complete Story |
| EAN: | 9781785005596 |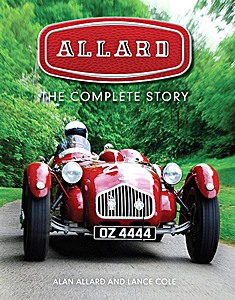 Allard - The Complete Story
Idioma: Inglés
Comprar en Amazon.com
Comprar en Amazon ES
Allard - Brooklands Portfolio
Un livre de Brooklands consacré aux voitures de sport Allard. Description des modèles Allard Special, Monte Carlo, Types J, K, M, P, Gran Turismo, Safari, Palm Beach et le Dragster.
Les 83 articles, parus à l'époque dans la presse automobile anglo-saxonne, sont une bonne source d'information sur l'histoire, l'évolution des modèles et la technique.
Aussi des impressions de conduite, essais, tests comparatifs, données techniques, etc.
| | |
| --- | --- |
| Presentación: | 212 páginas, 27 x 20 x 1.1 cm, tapa blanda |
| Ilustración: | ricamente ilustrado |
| Editor: | Brooklands Books (GB, 2008) |
| EAN: | 9781855208322 |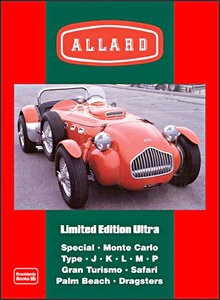 Allard - Brooklands Portfolio
Idioma: Inglés
Comprar en Amazon.com
Comprar en Amazon ES
Pericia y experiencia
Desde el año 2000 la librería TMB importa libros técnicos de Haynes, ETAI, Chilton, Clymer, Brooklands, Bucheli, Motorbuch Verlag y otras editoriales de renombre.
Gran selección de más de 12.000 títulos
Entrega rápida
Embalaje fuerte
¡Ordenar es fácil! ¡No necesita crear una cuenta!
Pago seguro mediante transferencia bancaria a través de su propio banco. ¡Para ordenar, no necesita una tarjeta de crédito!
El día del envío le enviaremos otro correo electrónico con el número de paquete, para que pueda rastrear su pedido en Internet.
Respetamos la privacidad.
Nuestros socios logísticos:
Powered by NOP Design, indexed by FreeFind
Última actualización:22-05-2023