Zero - The Story of Japan's Air War in the Pacific - As seen by the Enemy
de Masatake Okumiya, Jiro Horikoshi, Martin Caidin (Auteur)
This is the thrilling saga of war in the air in the Pacific Theater of Operations during World War II told from the Japanese point of view. It is the story of the men who created, led, and fought in the deadly Zero fighter plane.
In their own words, Jiro Horikoshi (who designed the Zero), Masatake Okumiya (leader of many Zero squadrons), and Saburo Sakai (Japan's leading surviving fighter ace) as well as many other men, tell the inside story of developing the Zero and Japan's air force.
They tell what it felt like to bomb American ships and to shoot down American airplanes - and then of their own shock when the myth of invincibility was shattered by the new Lightning, Hellcat, and Corsair fighters.
They tell of the fight against the growing strength of a remorseless American enemy; and how, in desperation, the Japanese High Command ordered the ceration of deadly suicide squadrons, the Kamikaze. And finally, they reveal their reaction to the dropping of the atomic bombs on Hiroshima and Nagasaki.
| | |
| --- | --- |
| Présentation : | 364 pages, 23 x 15 x 2.1 cm, relié |
| Illustration : | photos en N&B |
| Editeur : | ibooks (USA, 2014) |
| EAN: | 9781596874510 |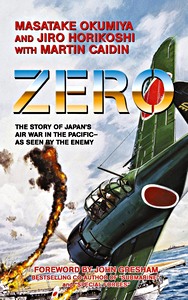 Zero - The Story of Japan's Air War in the Pacific - As seen by the Enemy
Langue : anglais
Acheter sur Amazon FR
Acheter sur Amazon BE
Acheter sur Amazon CA