Polish Aviation Museum Cracow
de Jaroslaw Dobrzynski (Auteur)
The Polish Aviation Museum in Cracow, Poland, has an amazing collection of aircraft, including one of the biggest collections of MiG jets and WW I aircraft from the former Hermann Goering collection.
This independent guide to the collection describes and illustrates the aircraft in the display.
Packed with excellent colour photos, this book provides an essential guide to potential visitors, and a full reference for those unable to make the trip!
| | |
| --- | --- |
| Présentation : | 136 pages, 29.5 x 21 x 1.1 cm, broché |
| Illustration : | abondamment illustré avec des photos en N&B et couleurs |
| Editeur : | MMP Books (PL, 2010) |
| EAN: | 9788361421030 |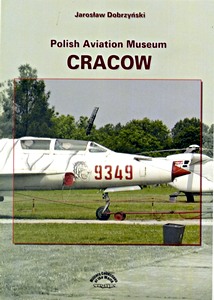 Polish Aviation Museum Cracow
Langue : anglais
Acheter sur Amazon FR
Acheter sur Amazon BE
Acheter sur Amazon CA