Spanish Air Force Aircraft 1939-2021
de Juan Arráez Cerdá, Eduardo Manuel Gil Martínez (Auteur)
At the end of the Spanish Civil War in 1939, the Air Ministry was created and, on 7 October of that year, the Spanish Air Force, or Ejército del Aire (EdA), was born.
Starting life from the ashes of conflict, it has grown to become on of the most important air forces in Europe.
To date, there have not been many books published about the history of the EdA, an oversight this volume seeks to redress. Illustrated with over 200 stunning photographs of bombers, fighters, transport, reconnaissance, attack, liaison and trainer aircraft, along with seaplanes and helicopters, taken over several decades, this book covers the history and aircraft of the EdA from its inception to the present day.
The many aircraft detailed include the Fiat Cr.32, Ju 52 and Bf 109 from the early days through to the A400M Atlas, F-18 Hornet and Eurofighter EF2000 currently flown.
| | |
| --- | --- |
| Présentation : | 96 pages, 24.5 x 17 x 0.9 cm, broché |
| Illustration : | abondamment illustré avec des photos en N&B et couleurs |
| Editeur : | Key Publishing Ltd (GB, 2022) |
| EAN: | 9781802820348 |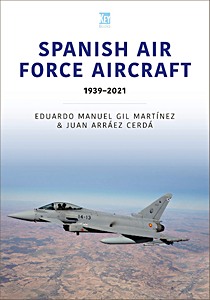 Spanish Air Force Aircraft 1939-2021
Langue : anglais
Acheter sur Amazon FR
Acheter sur Amazon BE
Acheter sur Amazon CA