FR
NL
Home >
NL >
Boulton Paul vliegtuigen: historie, uitvoeringen en techniek (1)
Grote voorraad - eenvoudig bestellen - stevige verpakking - snelle levering (met track en trace)
Boulton Paul vliegtuigen: boeken - historie, uitvoeringen en techniek (1)
Een boek over Boulton Paul vliegtuigen? Ontdek hier onze boeken over de historie, uitvoeringen en techniek van Boulton Paul gevechtsvliegtuigen, waaronder de Defiant en Balliol.
Boulton Paul Aircraft Since 1915
door Alec Brew
Omschrijving - The ancient Norwich firm of Boulton & Paul were brought into aircraft construction in 1915, and quickly became one of the great innovators. They pioneered metal construction and built the frame of the largest aircraft ever built in Britain, the R.101 airship.
The Overstrand, the last of their superlative medium bombers, was the first aircraft in the world to feature a power-operated gun turret, and after their move to Wolverhampton in 1936 and change of name to Boulton Paul Aircraft their gun turrets became a vital component of the war effort, not least in their own Defiant, which fought in the Battle of Britain and was the most successful night fighter in the dark nights of the Blitz.
Their post-war Balliol trainer was the World's first single-engine turboprop and their last production aircraft, because the technology of their gun turrets was translated into their world lead as manufacturers of power operated control units, and then fly-by-wire.
Becoming part of the Dowty Group and later GE Aviation, their advanced aerospace product line is now invested in the firm of Moog, still in Wolverhampton, still innovating.
| | |
| --- | --- |
| Uitvoering: | 448 blz, 255 x 183 x 27 mm, harde kaft |
| Illustraties: | 404 z/w foto's |
| Uitgever: | Fonthill Media (GB, 2020) |
| EAN: | 9781781557518 |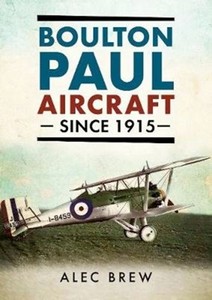 Boulton Paul Aircraft Since 1915
Taal: Engels
Bestellen op Amazon.nl
The Boulton Paul Balliol - The Last Merlin-Powered Aircraft
door Alec Brew
Omschrijving - The Boulton Paul Balliol was the last British aircraft powered by the iconic Rolls-Royce Merlin engine. Also, the Balliol was the last piston-powered advanced trainer in both the Royal Air Force and the Fleet Air Arm, and yet it began life as the world's first turbo-trainer.
Conceived in the last days of the Second World War as a new trainer to be powered by a revolutionary turboprop engine, it became the first aircraft to be powered by a single prop-jet, beating the rival Avro Athena into the air by just two weeks.
Policy was to change and it went into production powered by the trusty Merlin and Boulton Paul hoped for huge orders with a second production line opened at Blackburn Aircraft. Yet, policy was to change again and in the end only 200 planes were built as the RAF decided to switch to all-jet training.
A dozen were sold to the Royal Ceylon Air Force and as yet another footnote in aviation history, the Balliol became the last aircraft built by Boulton Paul who were world leaders in the production of power controls such as its famous machine-gun turrets that saw action in the Second World War.
Alec Brew is an aviation author with over thirty books published, including a dozen on local aviation history. The founder of the Boulton Paul Association, Brew organised the preservation of their Balliol cockpit, serial WN149, now incorporated in a full-scale model of the aircraft at an RAF museum. He is the co-ordinator of Wolverhampton's Tettenhall Transport Heritage Centre where a further two Balliol cockpits have been preserved and are to be restored.
| | |
| --- | --- |
| Uitvoering: | 128 blz, 23.4 x 15.6 cm, paperback |
| Illustraties: | 164 z/w foto's |
| Uitgever: | Fonthill Media (GB, 2014) |
| EAN: | 9781781553619 |
The Boulton Paul Balliol - The Last Merlin-Powered Aircraft
Taal: Engels
Bestellen op Amazon.nl
< Vorige Naar boven Volgende >
Kennis en ervaring
Sinds 2000 importeert de TMB Bookshop technische boeken van Haynes, Chilton, Clymer, Brooklands, ETAI, Bucheli, Motorbooks, Motorbuch Verlag en andere bekende uitgevers.
Grote keuze uit meer dan 10.000 titels
Alleen nieuwe boeken, geen tweedehands
Grote eigen voorraad
Korte levertijd
Stevige verpakking
Bestellen is eenvoudig. U hoeft geen account aan te maken!
Veilig betalen per overschrijving via uw eigen bank. Een creditcard is niet nodig!
Zodra uw bestelling is verstuurd, ontvangt U per e-mail nog het pakket-nummer. Hiermee kunt U het pakje via het internet volgen.
Uw privacy is gewaarborgd
Wij versturen met:
TMB Nieuwsbrief
Wilt U op de hoogte blijven van de verschijning van nieuwe boeken? Meldt U dan aan voor de gratis TMB Nieuwsbrief.
Powered by NOP Design, indexed by FreeFind
Laatste update: 06-08-2020