Ford FE Engines - How to Rebuild: Complete Step-by-Step Instruction for 330- to 428-ci Engines
de Barry Rabotnick (Auteur)
Ford FE engines, which were manufactured from the late 1950s all the way through the mid-1970s, were designated as the large-displacement engines in the Ford lineup. FE means Ford Edsel and reflects an era when Ford sought to promote the Edsel name. The design of these engines was implemented to increase displacement over its predecessor, the Y-Block engines of the previous decade.
This book shows you how to rebuild one of these legendary engines. CarTech's unique Workbench series format takes you step-by-step through the entire rebuilding process.
Covered are engine identification and selection, disassembly, cleaning, parts analysis and assessment, machine shop processes, replacement parts selection, reassembly and start-up/break-in techniques. Along the way are helpful tips on performance upgrades, trouble spots to look for, special tools required, and professional builder's tips.
Cliquez ici pour plus d'information sur les livres CarTech Workbench
| | |
| --- | --- |
| Présentation : | 144 pages, 28 x 21.5 x 1 cm, broché |
| Illustration : | 388 photos en couleurs |
| Editeur : | CarTech Inc (USA, 2016) |
| Série : | S-A Design Workbench (SA352) |
| EAN: | 9781613252444 |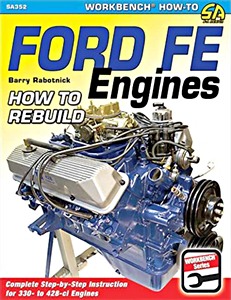 Ford FE Engines - How to Rebuild: Complete Step-by-Step Instruction for 330- to 428-ci Engines
Langue : anglais
Acheter sur Amazon FR
Acheter sur Amazon BE
Acheter sur Amazon CA