Yakovlev Aircraft of World War Two
de Gordon Yefim, Sergey Komissarov (Auteur)
Founded in 1927, the design bureau headed by Aleksandr S. Yakovlev started out with light aircraft but soon became a 'fighter maker' when the prospect of war loomed large.
Originally designated I-26, Yakovlev's first simple but rugged fighter, first flew in 1940 and entered production at the end of the year as the Yak-I.
The Yak-9 introduced in 1942, brought a greater proportion of metal to the airframe design which made it lighter leading to the development of the long-range Yak-9D, the up-gunned tank buster versions (Yak-9-37, Yak-(K etc.) and the Yak-9B light bomber.
Flown by the French pilots of the Normandie-Niemen squadron of the Soviet Air Force the Yak-3 brought out in 1943 came to be recognised as one of the Soviet Fighters of WWII.
Richly illustrated with unit badges, nose art, scale drawings, colour side views and three-views, as well as unreleased photos and personal stories from pilots in the Great Patriotic War, "Yakovlev Aircraft of World War II" is a detailed reference source for modellers, enthusiasts and historians alike.
| | |
| --- | --- |
| Présentation : | 272 pages, 29.5 x 21 cm, relié |
| Illustration : | 500+ photos et dessins |
| Editeur : | Hikoki Publications (GB, 2014) |
| Série : | Hikoki |
| EAN: | 9781902109466 |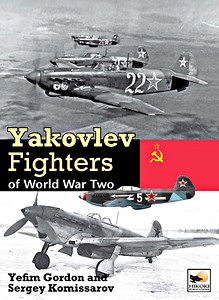 Yakovlev Aircraft of World War Two
Langue : anglais
Acheter sur Amazon FR
Acheter sur Amazon BE
Acheter sur Amazon CA