Sikorsky H-34 - An Illustrated History
de Lennart Lundh (Auteur)
Originally designed in 1952 as an anti-submarine warfare platform for the U.S. Navy, almost two-thousand Sikorsky H-34s have served on every continent with the armed forces of twenty-five countries - from combat in Algeria, the Dominican Republic, Nicaragua, and throughout southeast Asia, to saving flood victims, recovering astronauts, fighting fires, and carrying presidents, military H-34s have met every challenge handed them.
With continuing post-military service, the number of countries which the H-34 has called home has swelled to nearly fifty. Revitalized with turbine engines, it has yet to fade from sight. Whether lifting construction material or supporting police departments, the "DC-3 of helicopters" will still be flying on its fiftieth anniversary.

The most detailed account of the H-34 to appear, Lennart Lundh's Sikorsky H-34 reflects over a decade of research. It takes the reader through the H-34 from nose to tail, and across its service from Argentina to Vietnam.
Few of the photographs have been published before, and many are drawn from private collections. A special feature is the chapter of impressions and anecdotes from fourteen H-34 crew members.
| | |
| --- | --- |
| Présentation : | 160 pages, 28 x 22 x 1.3 cm, broché |
| Illustration : | 350+ photos en N&B et couleurs |
| Editeur : | Schiffer Publishing Ltd (USA, 2004) |
| EAN: | 9780764305221 |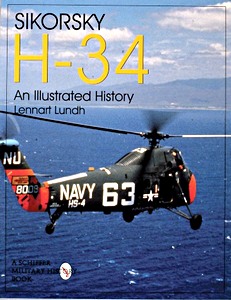 Sikorsky H-34 - An Illustrated History
Langue : anglais
Acheter sur Amazon FR
Acheter sur Amazon BE
Acheter sur Amazon CA