The Avro Vulcan, a Complete History (Revised Edition)
de Tim McLelland (Auteur)
Designed by a team led by Roy Chadwick, the man responsible for the legendary Lancaster, the Vulcan was created to carry Britain's nuclear deterrent in the 1950s and 60s.
Avro's delta-winged colossus became the backbone of the V-Force until the very end of the 1960s when the deterrent role passed to the Navy's Polaris submarine fleet.
The Vulcan remained in RAF service as a tactical low-level bomber armed with conventional and nuclear weapons, and was only retired following the introduction of the Panavia Tornado.
This is both a comprehensive work of reference and an authoritative history. It covers the origins of the Vulcan and delta-winged flight, details of every major production variant, reproduces extracts from the Vulcan's original Aircrew Manual and has appendices on both squadron disposal and the fate of every Vulcan built.
Also included is a wealth of information and anecdotes from former Vulcan air and ground crews, describing from first-hand experience what it was like to live with the mighty Vulcan.
The narrative is complimented with many photographs, scale drawings and colour profiles making this book the definitive history of this superb aircraft and an essential addition to the libraries of aviation historians and modellers. Additional photographs have been added to this new edition.
| | |
| --- | --- |
| Présentation : | 344 pages, 29 x 21.5 x 2.5 cm, relié |
| Illustration : | 300 photos en N&B et couleurs, dessins |
| Editeur : | Crecy Publishing (GB, 2019) |
| EAN: | 9781910809273 |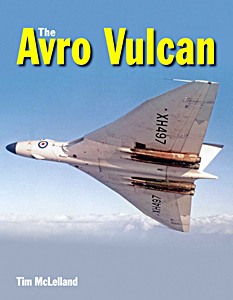 The Avro Vulcan, a Complete History (Revised Edition)
Langue : anglais
Acheter sur Amazon FR
Acheter sur Amazon BE
Acheter sur Amazon CA