The Setting of the Rising Sun - Japanese Military Aviation 1877-1945
de Terry C. Treadwell (Auteur)
'Tora, Tora, Tora!' The reports came back of the surprise attack on Pearl Harbor. The attack was the culmination of over fifty years of progress in Japanese military aviation, from kites, balloons and gliders to the Zeros, Kates and Vals that sank so many American vessels and destroyed so many aircraft on 7 December 1941.
Telling the story of Japanese military aviation from the mid-Victorian era, a time when Japan was only just beginning to open up to the rest of the world, Terry Treadwell illustrated the story with a fascinating selection of images of the personalities and aircraft involved in the development of aircraft by the Japanese.
Creating some of the iconic designs of the Second World War, it is hard to believe that the Japanese created so many classic military aircraft, but they understood the need for aircraft carriers, for long-range bombers and for fighters as comfortable on the deck of an aircraft carrier in a choppy ocean as for the ability to land and take off in rough jungle airstrips.
Borrowing German technology, the Japanese even created their own jets, including suicide flying bombs as well as a version of Messerschmitt's infamous Me163 rocket fighter.
| | |
| --- | --- |
| Présentation : | 192 pages, 24.5 x 17 x 1.5 cm, broché |
| Illustration : | 123 photos |
| Editeur : | Amberley Publishing (GB, 2010) |
| EAN: | 9781445602264 |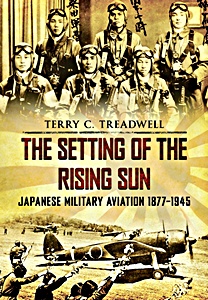 The Setting of the Rising Sun - Japanese Military Aviation 1877-1945
Langue : anglais
Acheter sur Amazon FR
Acheter sur Amazon BE
Acheter sur Amazon CA