Phoenix - A Complete History of the Luftwaffe 1918-1945 (Volume 1) - The Phoenix is Reborn 1918-1934
de Richard Meredith (Auteur)
Based on 40 years of detailed research, the Phoenix Project is a unique history of the wartime German Luftwaffe. Going far beyond a simple description of famous air battles and operations the overall work draws extensively on original documents, secondary sources and contemporary accounts to place the Luftwaffe within its proper historical context, gather together its many disparate components and provide a hitherto unpublished balance to its diverse activities.
All theatres are covered thus placing a much needed emphasis on the Luftwaffe's momentous struggle in the East, a theatre of operations that was always more urgent and more vital to the Wehrmacht. Throughout this work Luftwaffe activities are set within the wider role of overall military operations and Luftwaffe activity is therefore placed back within its proper context in the overall European conflict.
Volume 1: The Phoenix Reborn covers a particularly neglected area, specifically the post-war Reichswehr and the years of secrecy leading up to the unveiling of the Luftwaffe in 1935.
Much of the key developmental work was completed at this time and the first volume examines the evolution of the uniquely German concept of operativer Luftkrieg, the work of the clandestine air staff and the key roles played by the German Transport Ministry and the Flight Centre Lipetsk in the technical development of military aircraft and the training of military aviators.
It shows how Goring and Hitler essentially inherited an air arm in waiting - a product of covert military professional endeavour over a period of 15 years.
| | |
| --- | --- |
| Présentation : | 416 pages, 23.5 x 15.5 cm, relié |
| Illustration : | 115 photos en N&B |
| Editeur : | Helion & Company (GB, 2015) |
| EAN: | 9781910294505 |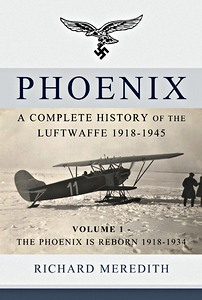 Phoenix - A Complete History of the Luftwaffe 1918-1945 (Volume 1) - The Phoenix is Reborn 1918-1934
Langue : anglais
Acheter sur Amazon FR
Acheter sur Amazon BE
Acheter sur Amazon CA