DKW Munga 4x4: books - history, models and technology
A book about the DKW Munga? Discover here our books about the history, types and technology of DKW off-road vehicles.
DKW Munga 1956-1968 - Auto Union Geländewagen aus Ingolstadt
by Jörg Sprengelmeyer
Viele Menschen, erinnern sich noch heute an die Zeit des geländegängigen DKW-Mungas in den späten 1950er und den 1960er Jahren. Mitte der Fünfziger Jahre wurden junge Männer zur neu gegründeten Bundeswehr eingezogen. In vielen Einheiten erlebten sie den DKW Munga als Einsatzfahrzeug. Mit ihm wurden ganze Generationen von Soldaten ausgebildet.
Von den Qualitäten des DKW Mungas überzeugt, griffen andere Behörden ebenfalls auf dieses praktische Gefährt zurück. So fand der DKW Munga Verwendung beim Katastrophenschutz, bei der Feuerwehr und in der Forstverwaltung seine Einsatzstellen.
Jörg Sprengelmeyer beschreibt in diesem Buch ausführlich die Geschichte des DKW Munga und stellt die DKW Munga-Typen der Jahre 1956 bis 1968 ausführlich vor. Beschrieben werden die DKW-Munga 4, 6 und der Typ 8, Sonderaufbauten für Feuerwehr und Rettungswesen sowie spezielles Zubehör.
In Brasilien wurden der DKW-Munga in Lizenz unter den Namen Candango von der Firma Vemag gebaut. Das Buch widmet auch diesem Auto Union-Geländewagen ein bebildertes Kapitel.
Über 250 Bilder stellte allein das Archiv der Audi-Tradition zur Verfügung und ermöglichte so dem Autor seltenes Bildmaterial zu verwenden. Detaillierte technische Tabellen aller gebauten Serientypen, ein Baumusterverzeichnis der DKW Munga von 1956-1986 und die kompletten elektrischen Schaltpläne der verschiedenen DKW Munga-Ausführungen machen dieses Buch zu einem echten Nachschlagewerk.
Noch nie wurde der Flair des Zweitakt-Geländewagens anhand bestechender Werksbilder in einem Buch so fesselnd wiedergegeben.
| | |
| --- | --- |
| Specs: | 160 pages, 28 x 21 cm / 11 x 8.25 in, hardback |
| Illustrations: | numerous b&w and colour photographs |
| Publisher: | Johann Kleine Vennekate (D, 2007) |
| EAN: | 9783935517096 |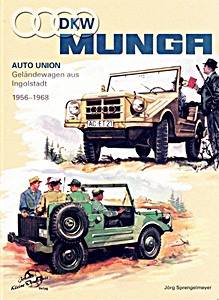 DKW Munga 1956-1968 - Auto Union Geländewagen aus Ingolstadt
Language: German
Buy from Amazon UK
Knowledge and experience
Since 2000, TMB Bookshop has been offering motoring books from Haynes, Chilton, Clymer, Brooklands, ETAI, Bucheli, Motorbooks, Motorbuch Verlag and many other well-known publishers.
Vast choice of more than 12,000 titles
Short delivery times
Quality packing
Ordering is easy. You don't need to create an account!
Secure payment by bank transfer via your own bank. A credit card is not necessary!
As soon as your order has been sent, you will receive the parcel number by e-mail. This allows you to follow the parcel via the internet.
We respect your privacy.
We ship with:
Powered by NOP Design, indexed by FreeFind
Last update:17-03-2023