Powering the World's Airliners : Engine Developments from the Propeller to the Jet Age
From the simple propellers of the first airliners of the 1920s and 1930s, to the turboprops and turbojets of the modern era, the engines used in airliners have undergone dramatic development over a century of remarkable change. These advances are examined in detail by aeronautical engineer and author Reiner Decher, who provides a layman's guide to the engines that have, and continue to, power the aircraft which carry millions of travellers across millions of miles each year.
Reiner Decher also looks at the development of aero engines during the Second World War and how that conflict drove innovation. He also explains the nature of wing design and how they provide lift and of the considerations of airflow over their surfaces, from the early days of the twentieth century to the present.
To enable an easy understanding of this intriguing subject, "Powering the World's Airliners" is profusely illustrated, transporting readers back to the time of each major development and introducing them to the key individuals of the aero industry in each era.
After reading this comprehensive yet engaging story of the machines that power the aircraft in which we fly, no journey will ever seem quite the same again.
| | |
| --- | --- |
| Autor: | Reiner Decher |
| Szczegóły: | 218 strony, 25.5 x 17.5 x 2.3 cm, twarda oprawa |
| Ilustracje: | bogato ilustrowane, zdjęcia czarno-białe i kolorowe |
| Wydawca: | Air World (GB, 2020) |
| EAN: | 9781526759146 |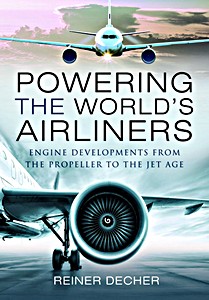 Powering the World's Airliners : Engine Developments from the Propeller to the Jet Age
Język: angielski
Kup na Amazon PL
Kup na Amazon DE
Kup na Amazon.com