Corsair - The Saga of the Legendary Bent-wing Fighter-bomber
Describes the development of the legendary F4U Corsair, and follows it into battle from Guadalcanal to the Indian Ocean, Central Pacific Ocean, Korea, Africa, and Central America, and throughout its lengthy military career into Korea.
Also included are chapters on the most decorated Corsair pilots, surviving examples of various models, as well as detailed appendices, and the author's own detailed line schemes and maps.
A total of 2,814 F4U-1, F4U-1A, and F4U-2 Corsairs were constructed and delivered. Musciano's book describes how this naval fighter was transformed to perform a myriad of functions for which it was never intended.
| | |
| --- | --- |
| Autor: | Walter A. Musciano |
| Szczegóły: | 343 strony, 29 x 22.5 x 3.3 cm, twarda oprawa |
| Ilustracje: | ilustrowany |
| Wydawca: | Schiffer Publishing Ltd (USA, 2009) |
| EAN: | 9780764332326 |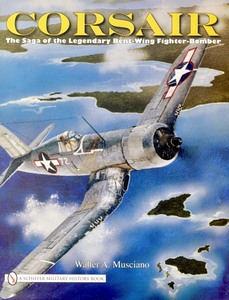 Corsair - The Saga of the Legendary Bent-wing Fighter-bomber
Język: angielski
Kup na Amazon PL
Kup na Amazon DE
Kup na Amazon.com