Supermarine - An Illustrated History
In 1904 an eccentric inventor, Noel Pemberton-Billing, took an interest in flying machines. In the spirit of the pre-Wright brothers pioneers, he launched himself off the roof of his house in a flight which ended 30 feet directly below.
From these humble beginnings emerged a company that went on to produce the most famous, most instantly recognisable fighting aircraft in the world: the Supermarine Spitfire.
Supermarine's engineering mastermind, R. J. Mitchell, designed an astonishing twenty-four different aircraft during his twenty years at Supermarine. The Spitfire, his greatest creation, earned a legendary status rarely bestowed on mere machines.
After Mitchell's untimely death, and the factory's destruction at the hands of the Luftwaffe, Supermarine forged ahead with radical new designs for the jet age.
The path to the Spitfire and its jet-powered successors is one of the most remarkable journeys in aviation history. From the founding of the first airport, to record-breaking racing seaplanes and year-long flying boat expeditions beyond the frontiers of civilisation, the story of Supermarine is one that has influenced the course of world history.
This book records the history behind the iconic photographs that captured the spirit of this golden age of experimentation and rapidly shifting frontiers of technology and human achievement.
| | |
| --- | --- |
| Autor: | Christopher Smith |
| Szczegóły: | 128 strony, 23.5 x 16.5 cm, miękka oprawa |
| Ilustracje: | 150 fotografii |
| Wydawca: | Amberley Publishing (GB, 2016) |
| EAN: | 9781445651248 |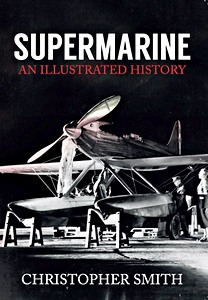 Supermarine - An Illustrated History
Język: angielski
Kup na Amazon PL
Kup na Amazon DE
Kup na Amazon.com