Alexander P. de Seversky and the Quest for Air Power
Today, air power is a vital component of the U.S. armed forces. James Libbey, in "Alexander P. de Seversky and the Quest for Air Power", highlights the contributions of an aviation pioneer who made much of it possible.
Graduating from the Imperial Russian Naval Academy at the start of World War I, de Seversky lost a leg in his first combat mission. He still shot down 13 German planes and became the empire's most decorated combat naval pilot.
De Seversky elected to escape Soviet Russia after the Bolshevik Revolution. He served as a naval attaché in the United States in 1918 and offered his services as a pilot and consulting engineer to the U.S. War Department. He proved inventive both in the technology of advanced military aircraft and in the strategy of exercising air power. He worked for famed aviation advocate Gen. William "Billy" Mitchell, who encouraged the naturalized citizen to patent his inventions, such as an in-flight refueling system and a gyroscopically synchronized bombsight.
His creative spirit then spurred him to design and manufacture advanced military aircraft. When World War II broke out in Europe, de Seversky became America's best-known philosopher, prophet, and advocate for air power, even serving as an adviser to the chief of staff of the U.S. Air Force.
The highlight of his life occurred in 1970 when the Aviation Hall of Fame enshrined de Seversky for "his achievements as a pilot, aeronautical engineer, inventor, industrialist, author, strategist, consultant, and scientific advances in aircraft design and aerospace technology."
This book will appeal to readers with a special interest in military history and to anyone who wants to learn more about one of the most important figures to promote American air power.
| | |
| --- | --- |
| Autor: | James K. Libbey |
| Szczegóły: | 361 strony, 23.5 x 16.5 x 3.4 cm, twarda oprawa |
| Ilustracje: | ilustrowany |
| Wydawca: | Potomac Books Inc (USA, 2013) |
| EAN: | 9781612341798 |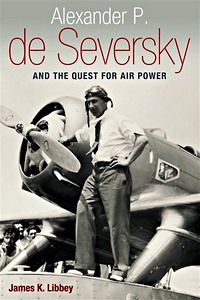 Alexander P. de Seversky and the Quest for Air Power
Język: angielski
Kup na Amazon PL
Kup na Amazon DE
Kup na Amazon.com