The Petlyakov Pe-2 : Stalin's Successful Red Air Force Light Bomber
During the Second World War, the Soviet Union's Petlyakov Pe-2 Peshka dive-bomber was unique in that it was as fast as most fighter aircraft. This was in a period when it was considered by the RAF that it was impossible for monoplane aircraft to conduct vertical bombing with any degree of success.
During the war the Pe-2 was the principal dive- and light-bomber of Russia's air power across the vast Eastern Front and it continued in service until the early 1950s with the air forces of the Warsaw Pact countries and Yugoslavia.
Conceived by a team of top aircraft designers whom Stalin had incarcerated in a prison camp on trumped-up political charges, the Pe-2 had originally been designed as a high-altitude twin-engine fighter plane, but, due to the outstanding success of the German Stukas in the Blitzkrieg, its role was quickly changed to that of a fast dive-bomber.
The Pe-2 arrived in service around the time of the German attack on its hitherto ally. Although only a handful had reached front line units by the start of Operation Barbarossa in June 1941, the Pe-2 soon became the main dive-bomber in both the Soviet VVS and Naval service.
Mass production, by factories hastily moved back beyond the front, meant that numbers increased rapidly, and more than 11,000 of the type, including many variants, were built up to 1945.
The Peshka became the mainstay of the Soviet counter-offensive that ultimately resulted in the fall of Berlin. Pe-2s also led the way in the brief but annihilating Manchurian campaign against Japan in the closing days of the war in 1945.
Using official sources, including the official Pe-2 handbook, and numerous colour and black-and-white photographs made available to the author from both official and private sources and collections, this book is the definitive record of the Pe-2 - the dive-bomber supreme!
| | |
| --- | --- |
| Autor: | Peter C. Smith |
| Szczegóły: | 336 strony, 24.5 x 16 x 3.5 cm, twarda oprawa |
| Ilustracje: | zdjęć czarno-białych |
| Wydawca: | Pen & Sword Books Ltd (GB, 2020) |
| EAN: | 9781526759306 |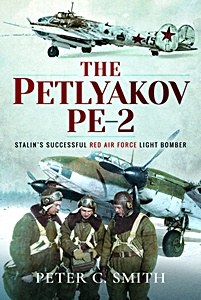 The Petlyakov Pe-2 : Stalin's Successful Red Air Force Light Bomber
Język: angielski
Kup na Amazon PL
Kup na Amazon DE
Kup na Amazon.com