Mustang - Thoroughbred Stallion of the Air
Covers the P/F-51 Mustang and each of its many variants and spinoffs including the A-36 Apache, F-6 Photo Mustang, F-82 Twin Mustang and others. It discusses the Mustangs used by all US allies and friends in many foreign air forces.
Also, it adds to the story of its creation through the wise choices made by the British government and its Royal Air Force, especially the transition from its original Alison V-12 to the wizard-like Rolls-Royce V- 12 called the Merlin.
The book is profusely illustrated with high quality mono and colour images, many of which have not been published before, and features beautifully drawn profiles and numerous appendices. It also features numerous first-hand accounts of the Mustang in battle during World War 2, the Korean War and other conflicts.
The Mustang was employed by more than 55 nations during its military lifetime and this book is a definitive work on this fabulous war horse.
| | |
| --- | --- |
| Autor: | Steve Pace |
| Szczegóły: | 224 strony, 27.5 x 22.5 x 2.2 cm, twarda oprawa |
| Ilustracje: | 150 zdjęć czarno-białych i 50 kolorowych |
| Wydawca: | Fonthill Media (GB, 2012) |
| EAN: | 9781781550519 |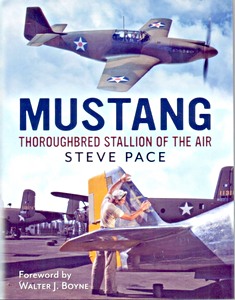 Mustang - Thoroughbred Stallion of the Air
Język: angielski
Kup na Amazon PL
Kup na Amazon DE
Kup na Amazon.com